Stuff of Nightmares

(BOOM!, 2022)
In the premiere of Stine's reanimated reimagining, the monster you enounter isn't the one you thought it'd be—you might be familiar with the classic tale of a mad scientist hell-bent on creating life, but what these two demented brothers have created is something else entirely! Get ready for a darker, more gruesome, and even more terrifying series for horror fans who are ready to face their fears in … STUFF OF NIGHTMARES!
Written by:
R.L. Stine
Inks by: A.L. Kaplan
Colors by:
Roman Titov
Letters: TBD
︎ Coming September 2022
︎Find your local comic shop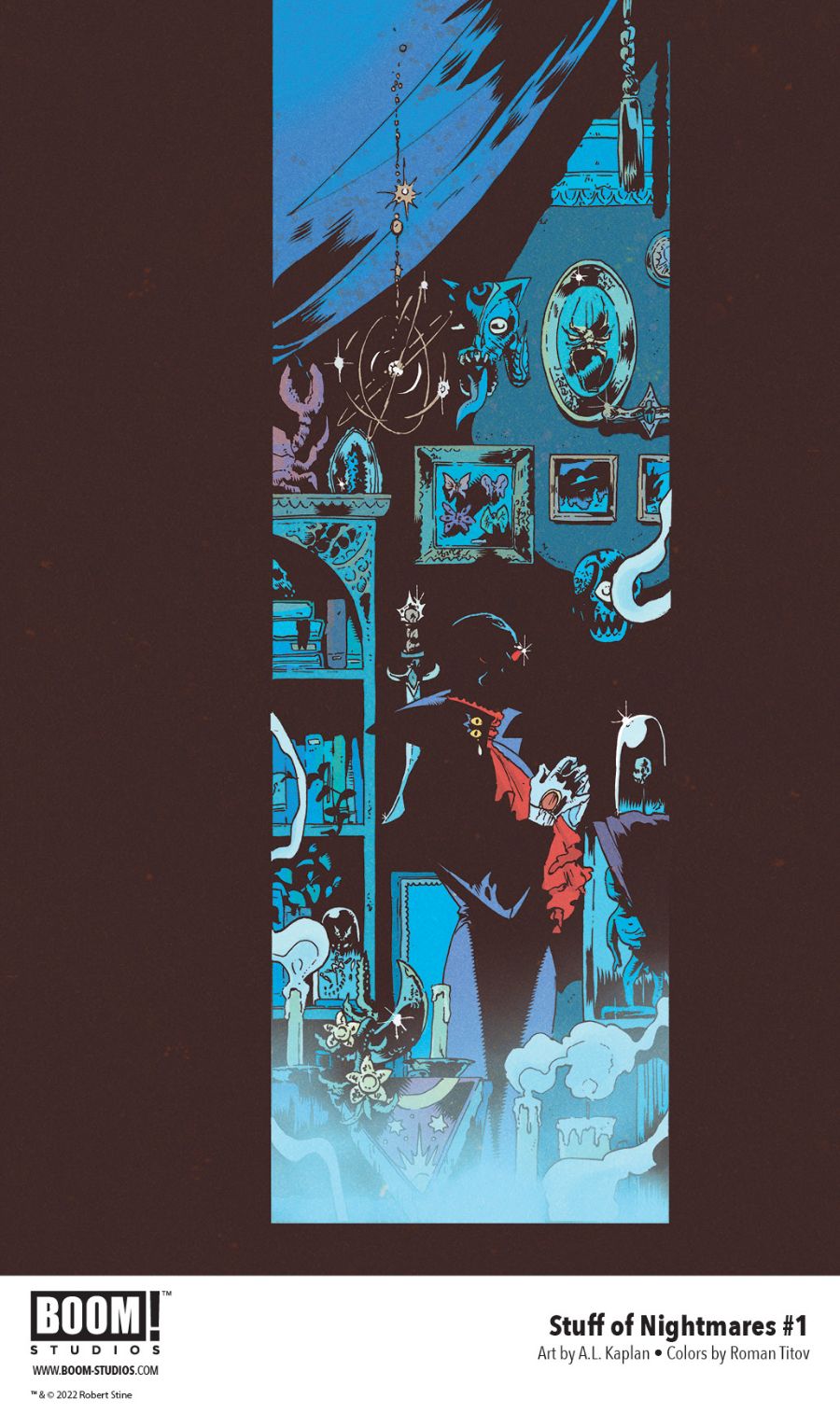 ---
MAW

(BOOM!, 2022)
What happens when one woman becomes the real monster society has always made her out to be? Dragged by her sister Wendy to a feminist retreat on a remote island of Antgitia, Marion Angela Weber is seeking perspective and empowerment, but a disastrous first night leaves her frightfully changed. In the aftermath of an assault, Marion begins to transform as an unspeakable hunger crawls through her body. When the townsfolk recognize there's something different about Marion, they react with suspicion, then violence, while ignoring the monsters already among them.
Written by:
Jude Ellison S. Doyle
Inks by: A.L. Kaplan
Colors by:
Fabiana Mascolo
Letters:
Cardinal Rae
︎ Pre-Order MAW now

︎ Buy issues 1-5 (digital)
︎Find your local comic shop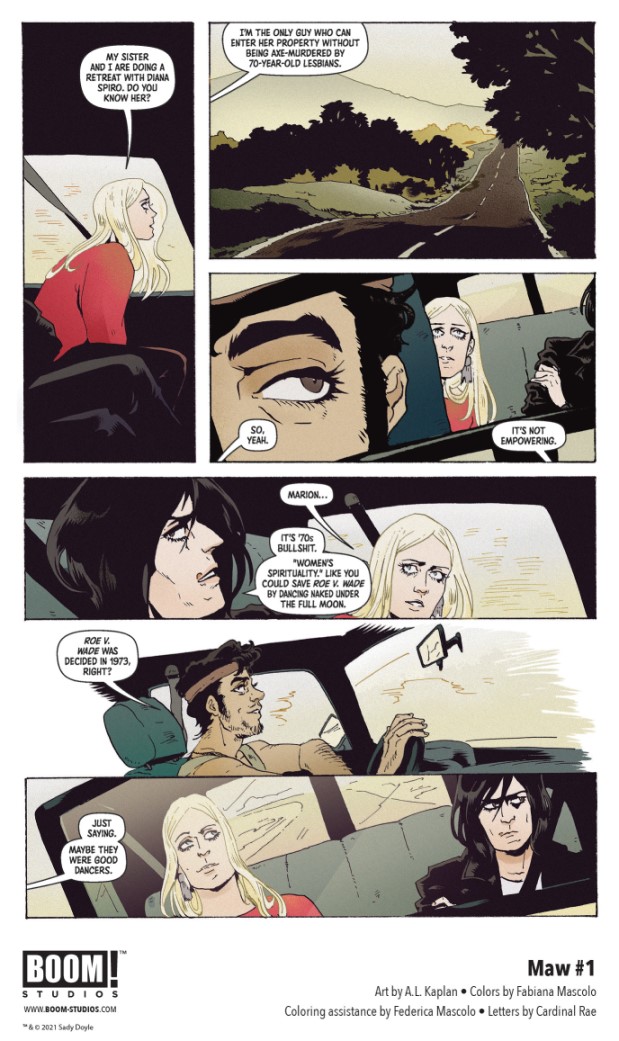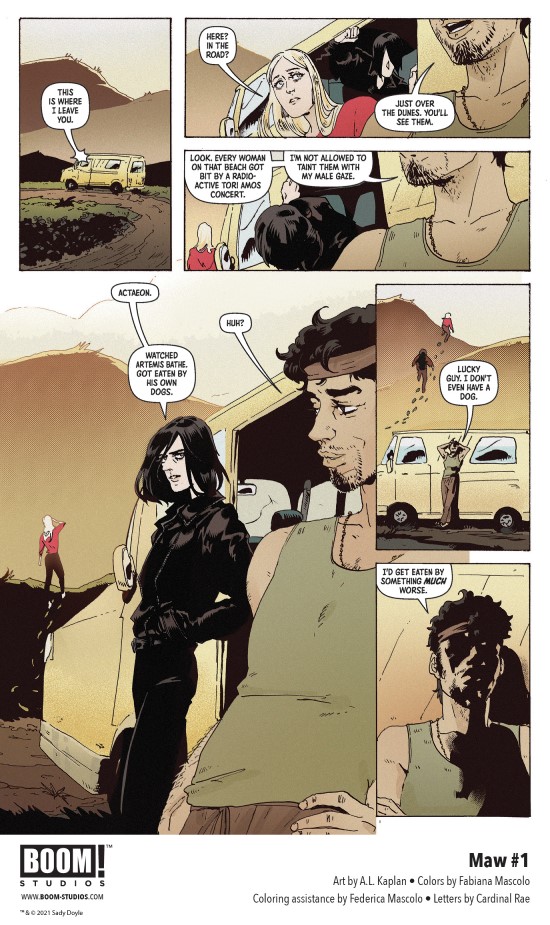 ---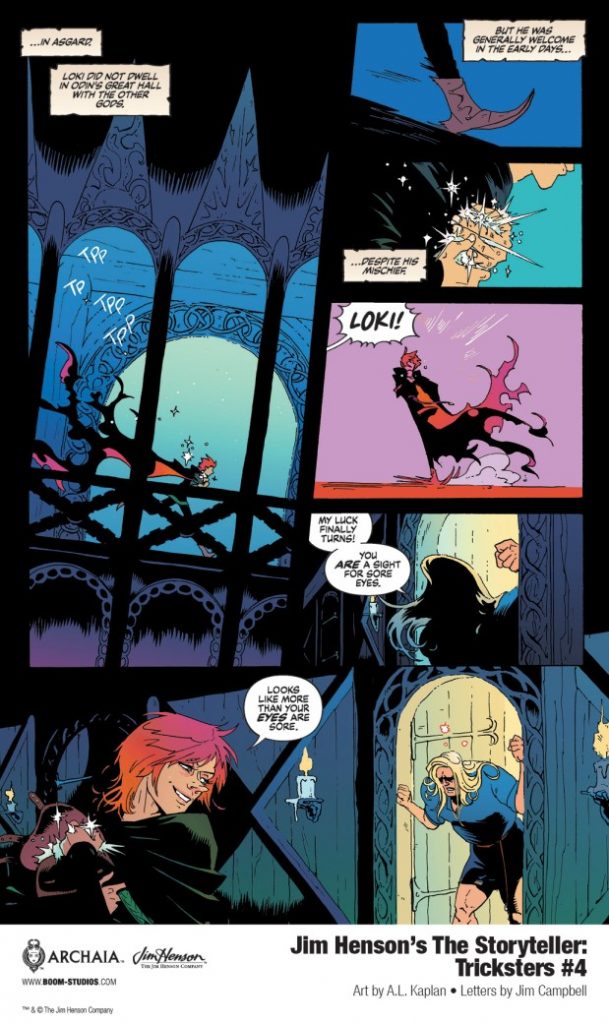 ---

Full-Spectrum Therapy

(webcomic, finished, 2015-2019)
Note
: this rough draft of the story ran as a webcomic from 2015-2019. currently, an edited and revised version is being queried for publishing.
Reno teen Quin Roberts can't stop the psychedelic gunk coming from his eyes, and makeup only covers so much. Finally reunited with his troubled childhood boyfriend, Damien Aattou, Quin'd rather hide in black eyeliner and pilfered booze than fess up to his secret. If authorities discover Quin's Empathic connection to the psychic aliens taking his form around school, he'll be taken away from Damien for training. And after what happened two years ago, he promised to never leave Damien alone -- not again.
By: A.L. Kaplan
💬️ Read the finished first draft online
---
Water

(webcomic, unfinished, 2010; 2014-2015)

35,000 feet below the surface in the Challenge Deep, a scientific crew struggles to adapt to their alien environment while collecting footage of the little-understood ecosystem. Lured in by the presence of an unprecedented bloom of ctenophores, they soon discover that there are more than just wayward jellyfish in the bowels of the abyss.

By: A.L. Kaplan

💬️ Comic archive TBA